Veteran Priority Needs List
For the support, betterment and safety of Veterans who call Rideau Veterans Residence home.
Enable staff working in a Veteran unit to perform quick, easy and non-invasive scans of the bladder to safely and accurately evaluate the need for catherization with two additional portable bladder scanners (2 @ $7,500 each).

Allow Veterans to watch their favorite movies and sporting events together in igh definition with four new televisions (4 @ $450 each) for the lounges in the Rideau Veterans Residence.

Improve meal service with new steam tables (3 @ $4,500 each) so Veterans enjoy their dining experience. This appliance keeps food warm throughout the entire service, and every bite is at the perfect temperature!

Provide family members of Veteran residents comfort and reduce their anxiety while they are able to stay close to their dying loved one by purchasing two new sleeper chair (2 @ $4,000 each).

Keep Veterans safe during outbreaks (influenza, gastroenterits, COVID) and limit infection with state-of-the-art cleaning technology with a new nocospray disinfectant machine (1 @ $7,000). Nocospray is a proven and trusted, Vaporized Hydrogen Peroxide based disinfection system used in hospitals, long-term care & schools to disinfect surfaces.

Increase access to outdoor space for Veterans with a new shade structure (1 @ $25,000). This structure will provide a space for Veterans to gather with theri friends and family while staying protected from the elements.

Ensure Veterans whouse wheelchairs have a confortable and safe experience during their bathing routines by purchasing two Carendo chairs (2 @ $12,500 each).

Veterans can live life to the fullest while participating in programs and activities with a new large-wheeled Broda chair (1 @ $5,500).

Provide a comfortable rest to residents by helping prevent and heal pressure injuries with new specialized mattresses and cushions (1 Bariatric Adapt Pro LAL mattress with extra cover (1 @ $7,000), 1 bariatric AMP2 Pressure redistribution mattress (1 @ $4,400), 2 CFT Pressure redistribution mattresses (2 @ $2,200 each), 7 ROHO Quattro Cushions (3 @ $775 each, 4 @ $875 each).

Improve care at the bedside for Veterans with 25 new tablets (25 @ $575 each) so staff can efficiently check and update records in real time. With access to this type of technology, staff spend more time with the residents in the confort of their roms.

Purchase four vital sign machines (4 @ $3,500 each) to easily monitor and read blood pressure, pulse, temperature, and oxygen saturation.

Help maintain independence in activities of daily living an help improve the overall quality of life for Veterans with new overbed tables. These tables are used for special one-on-one programming for Veterans and used for special meals for residents who use Broda chairs and other specialized equipment. (70 tables @ $175 each).

Ensure Veterans are more comfortable when enjoying their meals by purchasing four suction machines (4 @ $1,900 each), resulting in Veterans breathing more easily and choking less when eating and drinking.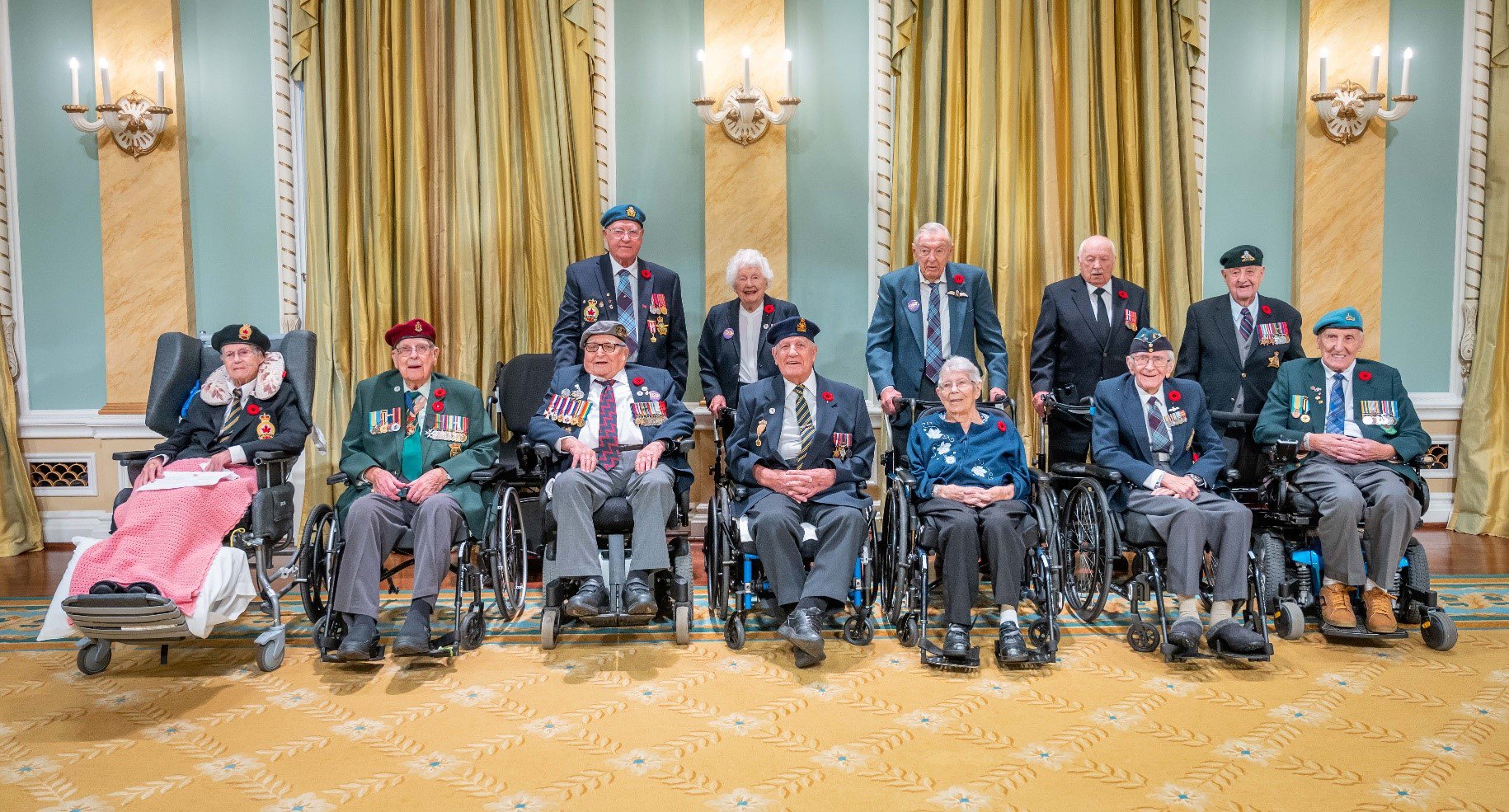 Picture above: Veterans visit Rideau Hall and are among the first to receive a poppy for the 2022 Royal Canadian Legion Poppy Campaign.
FUNDS FROM THE ROYAL CANADIAN LEGION POPPY FUNDS WILL CONTRIBUTE DIRECTLY TO THE CARE, SAFETY, AND COMFORT EXPERIENCE BY THE VETERANS WHO CALL THE RIDEAU VETERAN RESIDENCE HOME. POPPY FUNDS WILL NOT BE SPENT ON ADMINISTRATIVE ACTIVITIES.