The Value of a Dollar
The life of Bette Davis demonstrates the mix of self-reliance and community service that characterized her generation. Like many who grew up during the Depression, she learned to appreciate the value of a dollar. When she passed away in 2015, Bette capped off her busy and industrious life with a generous donation in her will that will help to improve the quality of life experienced by residents of Perley Health.
Bette's full name was Elizabeth Jane Davis; she was born in 1921 in Safe Harbour, a Newfoundland outport that was later abandoned during the colony's resettlement program. Her family moved to Glovertown, where her father built houses – including many that stand to this day. To further her education, Elizabeth moved to Corner Brook and studied business at St. Henry's, a Catholic school. While in Corner Brook, she met her future husband, Gerard (Jerry) Patrick McLennon, who worked at the local pulp mill.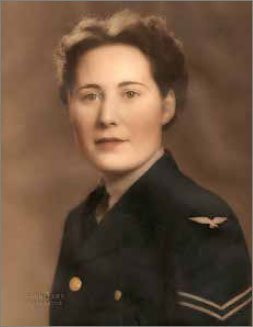 Bette Davis
At the time, Newfoundland was still a British colony; it joined Confederation in 1949. Jerry enlisted in the Royal Navy during the Second World War. In 1943, Bette, like many of her peers, also enlisted, although she chose the Royal Canadian Air Force. She was assigned to RCAF Station Dunnville (near Hamilton, Ontario) for training as a dental nurse.
One day, she had a surprise visit from her future husband – Jerry had hitchhiked from Philadelphia, where his submarine was undergoing repairs. After completing her training, Bette applied for a compassionate posting to Nova Scotia – RCAF Station Dartmouth (later CFB Shearwater) – so the couple could spend more time together. In 1944, Bette and Jerry married there.
After the war, the couple moved back to Corner Brook, and Jerry returned to millwork and eventually became President of Humber Valley Trades Union Council. Their first son was born in 1945, followed by two others in 1949 and 1954. Jerry enlisted in the Royal Canadian Navy during the Korean War.
When the children started full-time school, Bette began the business career that she had trained for many years earlier. She held a series of clerical and bookkeeping jobs. In the mid-1960s, the marriage dissolved and the couple divorced. By then, Bette was a bookkeeper with an industrial-supply and engineering firm in Dartmouth. To further her career, she enrolled in a Registered Industrial Accountant program (RIA, later known as CMA for Certified Management Accountant).
After several years of evening, weekend and summer courses, she earned her certification. Bette was the only woman in her graduating class of 38 students and took a job as comptroller of an engineering firm.
With her children grown, Bette focused on her career and achieved considerable success. Many considered her something of a trailblazer, as few women worked as professional accountants in Canada during the 1970s and 1980s. Bette soon landed a job with the Government of Canada's Audit Services Bureau.
During the next three years, she travelled throughout the Atlantic provinces auditing the operations of various federal departments and agencies. In 1980, Bette moved into an apartment in downtown Ottawa, where she would live the rest of her life. She enjoyed living close to Parliament Hill – "at the heart of the country," as she described it – and near the cultural centres she frequented, such as the National Arts Centre.
She visited her two grandchildren regularly and left her service medals to her granddaughter Leslie in her will. They remember her as an elegant, accomplished lady.
By age 65, Elizabeth had risen to be a senior auditor with the Bureau and oversaw aspects of the financial operations of many major projects undertaken by the Canadian International Development Agency. Although eligible to retire, she continued to work until age 69. In her spare time, she volunteered with local charities and served on the board of the Ottawa Seniors' Council for many years. She managed her money carefully throughout her life.
"Shortly before she passed away, she wrote a cheque to cover next month's rent," recalls her youngest son, Bryan, who held power of attorney and served as executor of her will. "Although she lost some of her memory in her 90s, she was always sharp as a tack when it came to her finances."
Bryan remembers that his mother, during her later years, often mentioned Perley Health and the good work that they did in caring for Veterans. Bette left substantial amounts in her will to two charities, including the Perley Health Foundation. "I wasn't surprised to learn that my mother made gifts to charity in her will," says Bryan. "She always appreciated the value of a dollar and knew her donation would be put to good use."