#TeddyTuesday

The first ever #TeddyTuesday was a success!  Held on November 27th to mark Giving Tuesday, Perley Health residents, tenants, volunteers, and staff were invited to bring in their stuffed animals and register them (with a small donation) for the #TeddyTuesday contest.  Teddies are a tangible symbol of the love and care that live at Perley Health, and have many military connections too!
Winners were chosen from the resident, tentant, volunteer, and staff categories, with one Grand Prize 'Best in Show' Teddy chosen.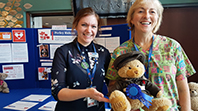 Pictured here is Muriel with the Best in Show winner - a Teddy Bear from Vimy Ridge proudly wearing his Canadian uniform.  
The Perley Health Teddy also spent Giving Tuesday travelling around Ottawa, letting people know about the different ways their donations and giving support the men and women who call Perley Health home.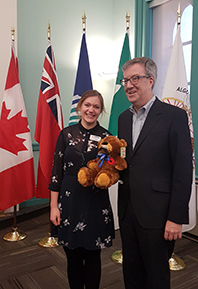 Here is Teddy meeting Mayor Jim Watson, who spoke about the important role that charities and volunteers play in our city.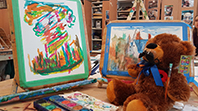 Teddy in the Therapeutic Recreation and Creative Arts studio, which receives funding from generous donors.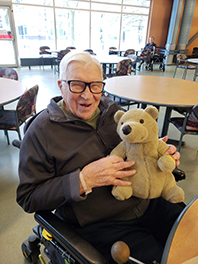 Resident Jerry proudly shows off a Teddy Bear entered in the #TeddyTuesday contest.
Over $3,000 was raised through #TeddyTuesday on Giving Tuesday 2018!  Thank you to all in the Perley Health community who participated for making sure that quality care, comfort, and services continue to be available to the men and women who call Perley Health home.