Ted Griffiths and the Reconciliation Dinner

To read Ted's story in the Foundation Newsletter Honour and Care, click here
As a tank gunner during the Second World War, Ted contributed to the key Allied victory in the Battle of Ortona, fighting through some of the most horrendous conditions in Canada's military history. He stayed in the Canadian Forces, served in the Korean War and retired as a major in the 1960s. As part of his second career – in the federal public service – Ted was executive assistant to Justice Minister John Turner, who later became Canada's 17th Prime Minister. Along the way, Ted married, raised a daughter and published his memoirs. Today, there are eight grandchildren and eight great-grandchildren.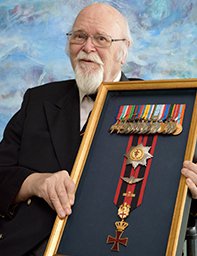 One accomplishment, however, lies particularly near and dear to his heart: the Dinner of Reconciliation he helped organize in 1998. A group of former adversaries – two dozen Canadians and eight Germans – shared Christmas dinner in an Ortona church damaged some 55 years earlier.
"We had tremendous respect for one another," he says simply. "On both sides, we were just good soldiers fighting for our countries."
In December 1943, the Allied advance through Italy encountered ferocious resistance at the ancient town of Ortona. The 1st Parachute Division – comprised of some of Germany's most experienced soldiers – fiercely defended the town against the 1st Canadian Infantry Division. The Germans created nearly impregnable obstacles; they destroyed buildings so that the Canadians would have to advance through narrowed streets lined with snipers and countless mined booby-traps. So intense were the eight days of house-to-house fighting that Ortona was dubbed "Little Stalingrad," for its resemblance to the definitive battle of the Eastern Front. The Canadians chased the Germans from the city at tremendous cost: more than 500 Canadians killed and 1,800 injured (including the initial fight across the Moro River to reach Ortona).
For decades, the battle haunted many of the Canadian Veterans who had taken part. Some would gather for commemorations and anniversaries to share their memories and grief. Ted participated in many alongside his fellow Three Rivers Regiment survivors. At one such meeting, the Regiment's former padre – Joseph L. Wilhelm, later Archbishop of Kingston – described his hopes that Canadian and German Veterans would one day hold a reconciliation dinner at Ortona.
When Archbishop Wilhelm passed away in 1995, Ted became determined to see the dream become reality. The Regiment endorsed the idea immediately, but Veterans Affairs Canada declined to contribute funds, citing plans for a larger ceremony scheduled for the following year. Ted was severely disappointed.
"To many of us," he says, "the Italian Campaign, and particularly the Battle of Ortona, had long been downplayed in Canada."
A radio host and a newspaper columnist in Ottawa quickly took up the cause, however, and public donations began to pour in, eventually totalling approximately $280,000. On behalf of the Three Rivers Regiment, Ted contacted the President of the 1st Parachute Division Veterans Association.
Together, they would commemorate a poignant moment from Christmas Day 1943, when several companies of Canadians rotated through a makeshift dinner service in the courtyard of an Ortona church. 55 years later, 24 Canadian and 8 German Veterans of Ortona shared Christmas Eve dinner in the same place. Ted describes the scene in his 2000 memoirs, Dare to be True: "It was a blending together of human beings who had faced each other as foes, and now with age and the greater understanding that goes with it, recognized that forgiveness and reconciliation is the only true path to follow."
For participants on both sides, the dinner put to rest the ghosts that had haunted them for decades. Donations from Canadians covered travel and accommodation expenses; the German Veterans paid their own way. The donations also paid for a statue erected in the town square. The remaining proceeds went to two facilities that care for Veterans: Perley Health and Ste. Anne de Bellevue
Hospital in Montréal.
"I'm quite impressed by the quality of care here," says Ted Griffiths, relaxing in his room. "It's as if they can't do enough for you."
Many Canadians – and particularly donors to the Perley Health Foundation – feel they can never really do enough for Veterans like Ted Griffiths.