Living Her Dreams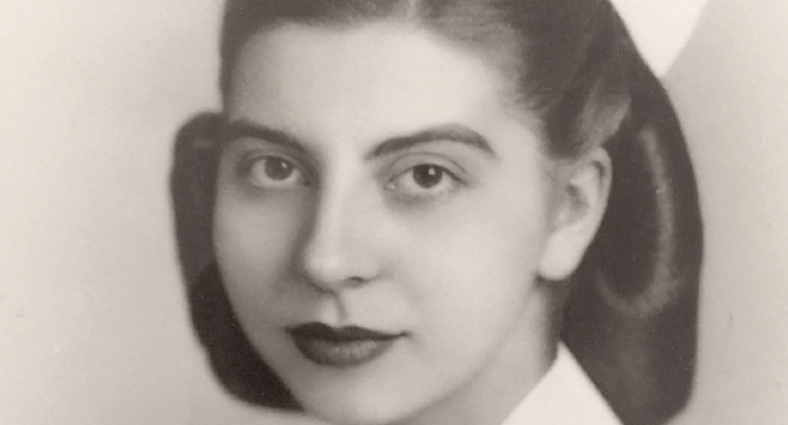 Pierrette LeBlanc in 1951
At the age of 91, Pierrette LeBlanc occasionally allows herself to reflect on her remarkable life. At various times, she's been a daughter, wife, mother, grandmother, nurse and adventurer, excelling in each role.
Since moving into Perley Health in 2019, she has started gardening again, discovered a passion for woodworking and created hand-made Christmas presents for family members. Born in the depths of the Depression, Pierrette spent her first few years in her grandmother's house in Hull (now Gatineau), Québec. During that era, multi-generational households were the norm for working-class families.
"One of my first memories was being in the garden with my grandmother," she recalls. "Maybe I saw her pick a radish and take a bite of it, because I started eating dirt. My mother wasn't too happy. But I think my love of gardening comes from my grandmother."
Along with gardening, another constant in Pierrette's life has been cottaging in the Gatineau Hills. Various members of the extended LeBlanc family owned or rented cottages on Lac Viceroy and Lac Simon, and Pierrette summered there often. Her family was at the lake when Germany invaded Poland, touching off the Second World War.
"I was only 9, but I remember my father looking out at the lake and saying, in an unusually serious and wistful tone: 'Things will never be the same again.' He was right, of course. Everyone was affected. It was much worse than the current pandemic, of course, but similar in some ways."
Pierrette's father was a successful salesman and the family eventually settled in the Ottawa neighbourhood of Sandy Hill. During the Second World War, he was one of the country's top sellers of War Savings Certificates, also known as war bonds. He travelled continually and Pierrette has warm memories of accompanying him on a few trips to small Quebec communities along the Ottawa River.
"It was exciting for me," recalls Pierrette. "We ate in restaurants and stayed in hotels where my dad knew the owners well. He was very outgoing."
One of these trips included a visit to the Grey Nuns Convent in Papineauville, which ran a home-economics school for girls. The mother superior encouraged Pierrette to come study at the school, but Pierrette told her that she wanted to be a nurse, like her aunt Yvonne.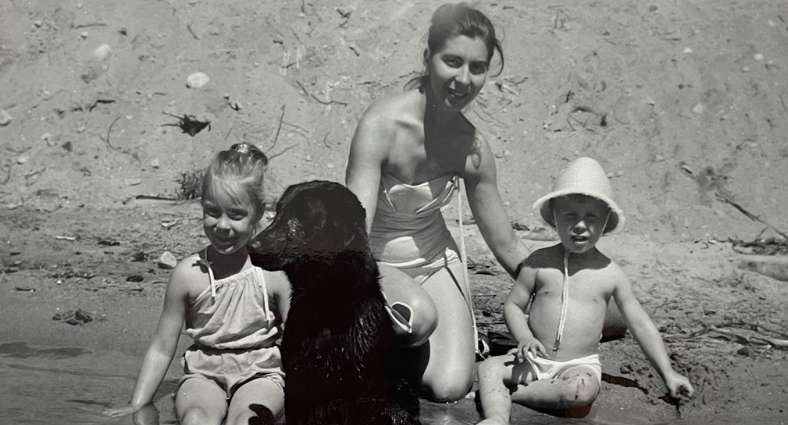 Pierrette LeBlanc with her two children, Danielle and Mark Malone, and Miki the dog, at Lac Viceroy in 1961
"I could tell the nun was disappointed," says Pierrette. "But I knew that I wanted to be like my aunt Yvonne. At the time, nursing was one of the few professions open to women."
Pierrette enrolled in nursing at the University of Ottawa, a four-year program that had students alternate between in-class studies and in-hospital placements. Most of her placements were at the Ottawa General Hospital, although she also visited the Perley Hospital, which was then located on Aylmer Avenue. Pierrette thrived. Upon graduation, she became head nurse of the General Hospital's gynecology department.
"I also loved obstetrics, but chose gynecology because I prefer to work with individual patients for longer periods of time," she says. "I enjoyed teaching women how to lead healthier lives."
At the time, the head of gynecology was a surgeon, who was conducting research into treatments using antibiotics, a relatively new class of drug.
"The doctor needed lots of antibiotics for his research," Pierrette says. "I contacted the manufacturer and was put in touch with Murray Malone, their salesman. Murray and I hit it off and we married in 1954."
Unlike her mother, who had to quit her teaching job upon starting a family, Pierrette continued to work after her daughter and son were born in 1956 and 1959, respectively. She later served as head nurse of the intensive-care unit and emergency department, and as director of nursing at Bellevue Nursing Home. The family went cottaging each summer. As Murray's career also blossomed, however, the strain of his constant travel began to take its toll and the couple divorced once the children had grown. By this point, Pierrette had left hospital work in favour of a job in a physician's office.
In her 50s, Pierrette began dating Paul Taillefer. Twice widowed, Paul enjoyed a long and stellar career as a photojournalist and author. He served two years in the Canadian Armed Forces during the Second World War and photographed the historic 1944 Québec Conference involving Prime Minister Mackenzie King, U.S. President Franklin Roosevelt and British Prime Minister Winston Churchill.
In 1987, the couple started a new chapter in their lives by opening a bed-and-breakfast in Iroquois, Ontario, near the St. Lawrence River. The first summer, they hosted several couples from Europe, which led to a listing in the Guide du Routard, the annually updated travel guide for francophone Europeans. Pierrette's muffins, jams and jellies — many made with fresh ingredients from her large garden — made the B&B especially popular. The couple eventually married, became avid sailors and one fall sailed to the Caribbean for an extended holiday.
"We brought our cat with us and she fell in only once," recalls Pierrette with a laugh. "It was a wonderful adventure, although we had to cut it short for my daughter's wedding back in Canada."
When the upkeep became too much, they sold the B&B and moved back to the National Capital Region — first to Gatineau, then to Ottawa. At the age of 93, Paul published the book Canada 1867–2017, 150 Years of History, A Yearly Chronicle. As the couple's health began to decline, they moved into a retirement home. Paul moved into Perley Health in 2019 and Pierrette followed less than a month later.
"We were extremely lucky to live only a few doors apart," says Pierrette. "Paul always went for breakfast before me, stopping on the way to say: 'Bonjour mon amour.' He passed away in 2020."
Although she misses her husband, Pierrette continues to enjoy life to the fullest. These days, she spends as much time as possible in Perley Health's woodworking studio, making everything from birdhouses to clocks to coat racks. Pierrette also helped to re-start the gardening program, which had been suspended during the early part of the pandemic.
"The staff treat me like a queen," she says. "They look after even the smallest of details and take great pride in their work. To me, that's the mark of a true professional."