Fortitude and Quiet Determination

By Peter McKinnon
Alex Kowbel always perseveres in the face of adversity. During a career of more than 30 years in the Canadian Forces, he served overseas in both the Second World War and the Korean War, and suffered a broken back in the line of duty. When his daughter was only two years old, Alex's wife died suddenly, leaving him to raise four children largely as a single parent. Now a 96-year old resident of Perley Health, Alex is determined to recruit enough players for a regular bridge game. 
Alex Nick Kowbel was born in 1922 to a family of seven children in Melville, Saskatchewan. As a young man, his father had emigrated from Ukraine during the Russian revolution.  
"As a kid, I remember being puzzled by the fact that most of my friends had two sets of grandparents instead of just one," he says with a smile. 
His mother was a homemaker, while his father was a railroad mechanic – Melville was a major hub for both major railways: Grand Trunk Pacific and Canadian National. 
"We never wanted for much," he says. "During the Great Depression, I think Dad was laid off for only six months, so we were lucky." 
As a child, Alex was given a pair of used figure skates; while the toe picks made playing hockey difficult, they helped him win a pocket watch in a barreljumping contest. He learned to type in high school, a skill that influenced his career path. 
After Canada declared war on Germany, Alex tried to enlist, but was initially turned down because he was slight – he weighed less than 45 kilograms – and under 18 years of age. But when a corporal learned of Alex's typing skills, he convinced the doctor and the enlistment officer to fudge the paperwork, saying: "We'll fatten him up in no time." 
As a recruiting clerk, Alex typed up enlistment documents, but soon grew restless. "So I signed up for the artillery, like so many did," he says. Thus began a pattern that repeated throughout much of his military career: Alex wanted frontline combat duty, but commanding officers were keen to harness his considerable skills in logistics and administration. 
Alex trained as a bombardier in Fort Garry (Winnipeg), then with an artillery regiment in Shilo, and in Debert, Nova Scotia. He eventually shipped out to England, landing on the day of the Dieppe Raid. "We didn't fully understand what had happened in Dieppe," he recalls. "Morale in England at the time was pretty good; we were beating Rommel in Africa and felt that we could also defeat the Nazis in Europe." 
Alex's hopes of participating in D-Day were dashed when he was selected for officer training. When he learned that the training would keep him out of action for at least seven weeks, he opted instead for active duty and landed a few weeks after D-Day. He contributed to the Liberation of Europe with Second Canadian AGRA (Army Group Royal Artillery). Although most of his duties involved administration and logistics, he experienced more than enough of the horrors of war. 
"While in Nijmegen, Holland, I ran into my former battery commander," Alex recalls. "We had a short visit at headquarters one afternoon. That evening, I went out for a walk and came across a small cemetery. I was shocked to find the man's grave. Apparently his jeep had hit a mine after our visit; he died instantly and was buried right away." 
After the war, Alex returned to school, earning a combined degree in Commerce and Economics from the University of Saskatchewan, and attending Canadian Officers Training Corps during the summers. He was posted to Camp Borden near Barrie, Ontario. "I organized a dance in collaboration with a nearby business girls association – most of them had also served the war effort. That dance led to four or five marriages, including my own," Alex recalls.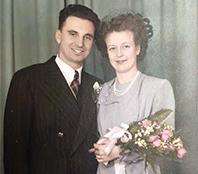 Wedding Day, 1948
At the dance, Alex met Frances (Fran) Emily Matthews and the two married in 1948. They followed the traditional path of many military families: raising four children – Jim, Tom, David and Susan – and moving from one base to  another. In 1949, Alex suffered a broken back during the training flight of a military glider—the parachute failed to deploy. He spent six months in hospital and eventually had spinal-fusion surgery, but continues to experience pain and limited mobility.
Alex later served in the Korean War. "I was in Korea when Fran gave birth to David, our third child, back in Canada," Alex recalls. "David and I share the same birthday." 
Before their youngest child's fourth birthday, tragedy struck. Fran died suddenly of a brain tumour. As a single parent with four young children, Alex coped as best he could. 
"Mom's death was obviously hard on all of us, but we were pretty resilient," says son Tom,  the second-eldest Kowbel child. "Dad hired a series of housekeepers to help – we kids continue to share funny stories about them. I'll never forget the year we spent in Churchill, Manitoba. We had to bus to and from school because of the intense cold and the  presence of polar bears. One time, we were kept in school until a helicopter came to chase away the bears."
Friendships with other families – such as the Scotts and the Halliwells – helped the family cope with their loss. "They  were very good to us," recalls Tom, "Elsie Scott was like a second mother to us and we remained in touch with both families for many years." 
Summer cottaging also helped; Alex remarried a woman from Wasaga Beach, Ontario, and the family spent time there, although the marriage didn't last. There was a second cottage on Lake Clear, near Foymount, about an hour from Ottawa. 
During the latter part of his military career, Alex was based at headquarters in Ottawa and inspected bases across Canada. In the late 1960s, Canada began to unify its armed forces as a costsaving measure and Major Alex Kowbel played a large role in the project. His work soon caught the attention of the government officials tasked with establishing a new federal department: Environment Canada. 
Alex retired from the Canadian Forces to begin a senior job with the Environmental Protection Service. Alex helped to lead efforts to eliminate PCBs (polychlorinated biphenyls) – a recognized toxin – from electrical transformers and represented Canada abroad. 
"During an international meeting in Sweden, I told our American counterparts – representatives of the Environmental Protection Agency – that if the U.S. didn't ban PCBs in transformers, I would advise the Canadian government to ban imports of all products made by Monsanto, the leading manufacturer of PCBs at the time,"  Alex says. "It was a bit of a bluff, but it worked." 
In 1978, Alex retired to a life of gardening, golf and four grandchildren – three great grandchildren would follow. He bought a home in Foymount and a condo in Hawaii, where he continued to winter until well into his 90s. He moved into Perley Health in June, 2019. "The care here is really excellent," he says. "I go to exercise classes regularly and last  Wednesday, four of us started what I hope will be a weekly bridge game."