A Home Where Music, Camaraderie and Care Live in Perfect Harmony

A profound love of music and a commitment to serving Canada and Veterans have been central to the rich life I've lived for almost 90 years. I have been truly fortunate to forge special friendships, lifelong connections, and so many cherished memories. 
I served in the Royal Canadian Air Force for almost four decades and that time instilled in me the importance of camaraderie and community. Many years of performing worldwide as a musician and Pipe Major have shown me the enormous power of music to capture hearts, rekindle memories, and elevate the human spirit. In a few weeks, music will help mark Remembrance Day at Perley Health. Not long after that, the sounds of Christmas Carols will echo merrily in the halls. 
Since moving into Perley Health, I have discovered the same sense of belonging that military life provided me.
I have found a caring community where music is central to our quality of life.
I felt at home here from the first day. All the people are simply wonderful to my family and me. An atmosphere of genuine caring is palpable through staff, volunteers, and, of course, donors like you who support so much of what makes Perley Health special. After reading my story, I hope you will consider a gift at this special time of the year.
Storytelling has been a big part of my life, in words, songs and the occasional whimsical cartoon. My story began in 1931 when I was born in Port Dalhousie, Ontario, just outside of St. Catherines. Shortly after the Second World War, I joined the Air  Cadets. Flying in the open cockpit of a Tiger Moth bi-plane was a thrilling experience for a 16-year-old.
I didn't become a pilot, but I did become a Flight Technician, helping keep planes and pilots in the air. Eventually, my passion for storytelling and skills in oratory led me into public relations for the RCAF. For 30 years, I was proud to tell the stories of members' lives, speak at many events, narrate recordings and organize special occasions. I met many brave women and men and dozens of dignitaries, including royalty and heads of state. A few years after retirement, I returned to Ottawa to be Executive Director of the Royal Canadian Air Force Association, a job I would proudly hold for the next 13 years.
It was a dream job for a storyteller who admires the dedicated women and men who serve. I worked with so many talented people there, including my daughter Laurie. We were comrades in storytelling and, occasionally, a little innocent mischief. During my Air Force career, I met an extraordinary man, Pipe-Major Archie Cairns, who ignited in me a love of bagpipe music and marching bands. Learning from a musical legend like Archie was an honour, albeit challenging as he could be a stern taskmaster. It was through teaching and playing the bagpipes that I met my second wife, Trudy. 
I led and played in pipe bands all over Canada, the US and at the Royal Edinburgh Military Tattoo in Scotland. A dear friend of mine, Gordon Spiers, composed a song in my honour called; Pipe Major Bob Tracy. I even formed a pipe band, the Pikes Peak Highlanders, in 1985, in Colorado Springs. They are still performing to this day!

Click here to listen to the Pipe Major Bob Tracy Set, recorded by the Pikes Peak Highlanders.
Just the other day, another Veteran resident recognized me from my performing days. We had a wonderful chat in the Pub. It made me feel like a big deal! It is thanks to donors like you that these encounters are made possible. So many of my musical memories involve Remembrance Day. It was always a privilege to perform in ceremonies on November 11th in places like Trenton, Campbell's Bay, Kanata, Manotick, Ottawa, Colorado Springs, and many other cities and towns that honour the service and sacrifices of our brave Veterans.
This year will be my first Remembrance Day as a resident. I am genuinely thankful for the recognition, respect and gratitude that Veterans receive at Perley Health. Veterans here have told me of the sea of Canadian flags that adorned the grounds on Remembrance Day last year. A truly amazing sight, I am told. 
Every day, I see and hear of the impact you make in helping to provide exceptional care to Veterans and Seniors and peace of mind to their loved ones. My family and I are so grateful for your continued generosity. Because of you, residents enjoy time in the art studio, movie nights, and concerts. As you might imagine, I am thrilled to see live music happen at Perley Health as many talented musicians return.
Your support helps programs like the Therapeutic Recreation and Creative Arts Program, where residents find, often for the first time, their artistic talents in pottery, woodworking, silkscreening and painting. I could tell you how exceptional the talent of my fellow residents is, but it's better to show you! Enclosed are some beautiful examples. 
With Christmas around the corner, I've enclosed a card made by a fellow RCAF resident with the hopes you will return it with a holiday message along with a donation. Your  message will make such a difference at this time of year. Your donation will support exceptional care. 
When I speak to staff and other residents, they tell me that your support and kind words lifted their spirits during the most challenging days of the pandemic. 
Please join my family and me in donating and brightening the Perley Health Community over the holidays.
Thank you for letting me share some of my story with you and for helping to create so many heartwarming stories at Perley through your generosity. Thank you also for your support of the care of Veterans and Seniors at Perley Health.
Merry Christmas and Happy Holidays to you and yours,
Major Robert (Bob) Tracy, (ret'd)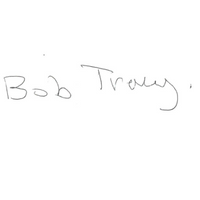 PS: So many of the people from my Air Force stories are no longer with us. I miss them. If they were, I would regale them with the stories that make Perley Health a wonderful community. When you donate today, your generosity will help to create many new stories of extraordinary care.
Click here to donate now