2020 Perley Health Report on the Professional Development Fund

Thank you to Perley Health Foundation and the generous support of the donors for $15,000, to support the professional development of Perley Health staff. Although, 2020 was a different year and there was little "face-to-face" training, healthcare workers continued to grow and learn. Education and training are particularly important to achieve our mission of achieving excellence in the health, safety and well-being of Seniors and Veterans with a focus on innovation in person-centered and frailty-informed care and service. This was especially important as we strived to increase bedside knowledge of Infection Prevention and Control (IPAC).
The professional development fund assists Perley Health in developing and maintaining the workforce skills and competencies required for safe, quality person centred care which is essential in achieving our vision of becoming a Centre of Excellence in Frailty-Informed Care. Funds are used carefully to obtain as much benefit as possible for our staff to safely care for our residents and families. From an operational and training perspective, the decision was made to spread the funding from the Professional Development Fund throughout the year to leverage professional development opportunities as they arise. 
Summary of Current Disbursements
In 2020, support in the amount of $14940.28 has been provided to individual staff professional development as we as the following corporate education events: Queen's University Infection Prevention and Control Course, Learning Essentials in Palliative Care (LEAP) training, and Palliative Care Medical Intensive. 
A guiding principle of the corporate requests is that those who complete the training share their knowledge and as a result multiple staff indirectly benefit from the support of the Professional Development Fund. These corporate events provided direct support to 4 staff; however, it should also be noted that IPAC training was spread through the organization using a "train-the-trainer" model. In 2020, we offered walk and talk training on a variety of IPAC topics reaching 1216 staff interactions (as there were a variety of topics to cover, staff may be counted twice if they participated in more than one training session). Additionally, the LEAP training can be leveraged for 3 years allowing us to train a number of PSWs during that time. Individual staff educational programs were also supported. As a result of individual staff educational programs, 14 additional staff (for a total of 18) were also supported by the professional development fund. Recipients have been from: Nursing, Senior's Housing and Assisted Living, Therapeutic Recreation and Creative Arts and Programming and Support departments.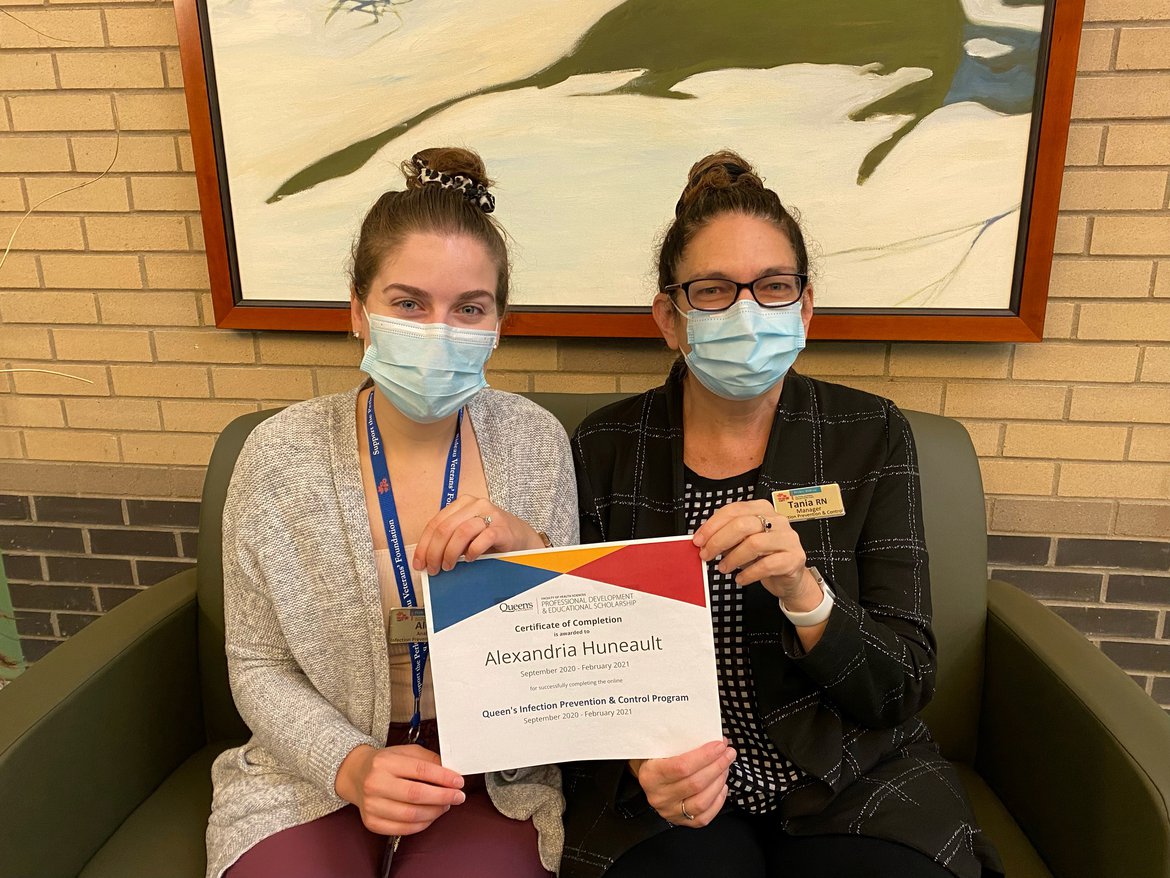 My name is Alex Huneault and I began my career at Perley Health in the summer of 2017 as a part time housekeeper while attending full time school as a paramedic. Little did I know, when I began working that summer at Perley Health that I would find great passion working in Long Term Care. I graduated from the paramedic program in spring of 2018 and while seeking employment I continued on in several casual positions within support services.  . Throughout this time, I had many opportunities to  visit and really get to know residents and their stories. I spent many "moments' reflecting on my career choices and one day thought, I wanted to have a career here at Perley Health where I could bring a change in the lives of others that is long term  and not just in a moment of time. Late in 2018 a full-time position became available in the Infection Prevention and Control (IPAC) Portfolio. I jumped on this opportunity and started in role of the IPAC Analyst. To my surprise, I quite enjoyed this role and wanted to enhance my knowledge and learn as much as I could. I took several courses and then in 2020 enrolled in the IPAC certificate course offered through Queen's University. I received funding for this course through the Professional Development Fund and am forever grateful, this course has provided me with the knowledge and skills to assist in growing my role and prepare me to eventually write the Certification in Infection Control (CIC) exam. I must admit, never in my wildest dreams, I would have seen myself in this position in the midst of a pandemic. Although this past year has presented many challenges and more than likely, will present many more, I continue to find passion in the work I do everyday with a dedication to learn as much as I can to make a difference in the community here at Perley Health. 
- Alex Huneault