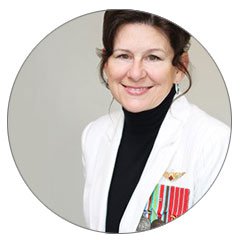 Lieutenant-Colonel (H) Sandra Perron, CD, MSc.
Senior Partner, A New Dynamic Enterprise Inc.
Sandra Perron is a senior partner with A New Dynamic Enterprise Inc. After serving in the military as an infantry officer with the Royal 22e Régiment, she specialized in advanced quality engineering with General Motors and Bombardier Aerospace, then rounded out her skills with trauma informed practices, neuro-linguistic programming and mind mapping techniques, all of which have made her a unique and popular keynote speaker.
She has chaired the Minister of Defence's Advisory Board on Employment Equity, currently serves on the Board of Governors of the Corps of Commissionnaires and has consistently served in one capacity or another on boards, focus groups, or committees to help promote and mentor women in non-traditional fields. She is the best-selling author of Out Standing In The Field.  She is the founder and president of the Imagine Project, a non-profit organization mentoring an orphanage in Boma, Tanzania.