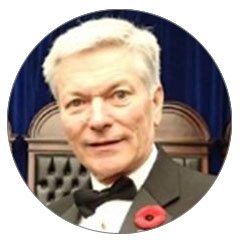 Major (ret'd) Daniel Charron
Born in Salaberry de Valleyfield, Daniel R. Charron completed most of his studies in the Montreal area and acquired his bachelor's degree in business administration from the U of Ottawa.  He joined the Canadian Armed Forces  in 1973 as an armour officer and retired at the rank of Major in 1995.  Amongst his numerous postings are two United Nations tours in Cyprus.
Mr. Charron was actively involved in the Administrative Committee of St-Joseph's Parish in Orléans, both as president and as secretary, for 9 years.  In December 2005 he completed his mandate as treasurer for the Ottawa Chapter of Advocis (The Financial Advisors Association of Canada), a position he had held since July 2003.
In June 2013 he completed his mandate as member on the board of the Investment committee of University St Paul; a position he held since February 2008.
Mr. Charron, retired continues to be active in the community and is fluently bilingual.