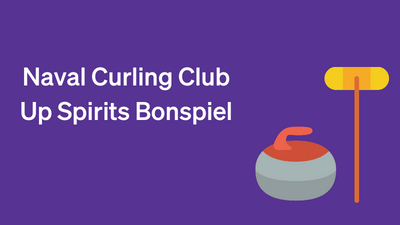 Navy Club - Up Spirits Bonspiel

Once a year, in the midst of winter, the Navy Club would invite other clubs to participate in an Up Spirits Bonspiel to break the long winter monotony and which included, of course, at least one "tot" of rum.
The Seniors Men's Division inherited this tradition by establishing a one-day bonspiel to celebrate the beginning of the end of winter.  As part of this annual event a money was raised to support the men and women who have served and now call Perley Health home.  
History of The Up Spirits: The Up Spirits consisted of a rum ration issued to everyone 20 and over, at noon, except those who were "in the rattle" (under punishment with "stoppage of grog").  Those on duty were issued their "tot" when they were done.  The unwritten law was nothing could interfere with the rum issue not flood, not storm, not Acts of God, not even bloody battle.  A "tot" was 2.5 ounces of 98% proof West Indian Black Rum  Depending of rank, the rum was taken straight, mixed with water, grog, or with coke or similar. "Tot Time" was the social event of the day aboard the ship. 
To make a donation to Perley Health please HERE.